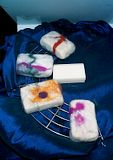 The simple description of felting is amazingly deceptive; BTW, felting is addictive:
Feltmaking is an ancient technique. You add warm soapwater to the wool, press and rub the wool and the fibres will tighten into a felted textile material.
Ha! Lots more to it!!! Wet felting is a lot of fun. Needle felting is very interesting too (think: painting with wool). The funny looking blocks of felt are felted-over-soapbars, and use both techniques. I got the idea to do them from a felting forum and craftster, both of which have numerous tutorials and commentary on both types of felting techniques.
I also have learned that knit first, throw-in-washing-machine-to-shrink-hats are technically called FULLED HATS, not felted (try telling that to all the magazines and websites where all the FULLED baskets, bags and hats are a big rage right now, identified as felted...),
Anyway- good fun - felting -, the flat square is an early piece (wet felted only) a sample of white merino with colored merino laid out in diffrent ways, to see how it all worked. Merino wool felts very easily and makes a very fine, soft piece,
I needlefelted the colored bits on top of lighter wool on the soapbars, to help keep them in place. Lots of rubbing! The soaps will be a holiday charity bazaar donation. It was truly amazing how well received the felted soaps are; I took a basket of them to Thanksgiving Dinner as party favors.
Booties, little bags, hats, vests, coats, and flat pieces-are relatively simple to wetfelt with wool that felts easily; some wool takes too much effort to felt, if at all. Before or after, one can add decorative touches via needlefelting.
Here's a few inspirational places to find out more about felting:
Craftster Felting Area
Feltmakers List FAQ
The later will take you deep into the world of felting- BEWARE!!!
Happy Holidays!